Dave Facciuto began taking care of his customers' cars in the early 1980's. Dave's reputation for fixing fine cars steadily grew as customers helped spread the word about the great mechanic who would take time to talk to them about their cars' service, while treating them with honesty and integrity.
Three decades later, the humble beginnings of working out of a home shop and then moving into a small garage have become a thriving state-of-the-art service center. In 2007 Dave opened his new 4000 square foot shop and staffed it with a team of dedicated ASE Master Techs who share his passion for excellence. Dave and his staff continue to give their customers what they have grown to expect — absolutely the best auto service in Southern Oregon.
It's obvious what makes Dave's shop what it is today — it's not just the high tech equipment and the factory trained specialists, it's the hundreds of loyal customers who refer to them as "the mechanics you can trust."
Staff Bios
Dave's ASE Certified staff includes factory trained master techs for Porsche, Jaguar, BMW, Audi, Volkswagen, Honda, Acura, Mercedes Benz, Ford, GM, Buick and Cadillac with nearly 100 years of combined experience.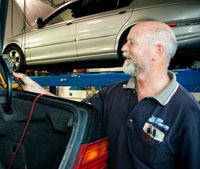 David Facciuto, Owner
ASE Certified Master Technician | ASE L1 Certified Engine Performance Specialist | Certified A9 – Light Vehicle Diesel Engines
Dave has 30+ years experience and has factory and/or specialized training in Ford, GM, Porsche, BMW and Jaguar. Dave's favorite areas of expertise are Porsche 911's and advanced engine performance diagnostics.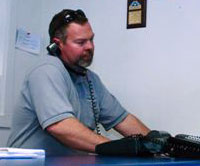 Jim Johnson
ASE Certified C1 Service Consultant
Jim takes care of our front counter. As the primary customer service tech at Dave's, Jim is great at listening to customer's needs, diagnosing problems and recommending the proper repairs. Jim's previous work experience as a parts counterman gives him a unique ability to help us find quality parts for your car at a great price.
Erik Sund                                                                                                                                                                                                                                                                                                                                                                         
Certified ASE Automotive Technician
Erik graduated from Wyo Tech with an Automotive Applied Science Degree with top academic honors in his class. ASE certified in brake, engine performance and engine repair,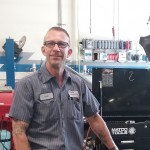 Erik also has specialized training in Ford Engine performance and Dodge Cummins engines.
Kevin Orndorff
Certified ASE Master Automotive Technician | ASE L1 Certified Engine Performance Specialist | VW AUDI Master Automotive Technician | Mazda Master Certified Technician
Kevin is our European specialist with many years experience in multiple car lines. In his 13 years he has attended dozens of training seminars and factory classes in his field. Kevin has also won the Kiwanis award for automotive recognition.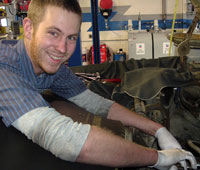 Nick Daley
Certified ASE Master Automotive Technician
Nick graduated in 2011 from RCC with a degree in Automotive Technology. Nick graduated with honors.